Yesterday, we recieved an updated picture and information from our World Vision child, Auther! He lives in Uganda and let us know what all he has been doing and World Vision lets us know how our contributions to Auther has helped him and his family! Auther turned 10 this year and he is a growing boy!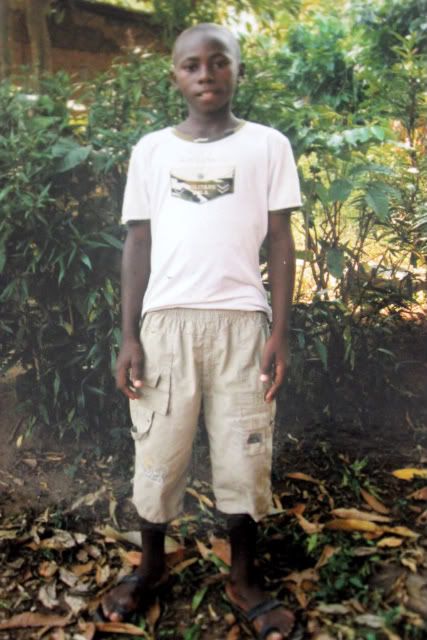 Auther is in Primary School in the 4th grade His average mark is 88% which is good. His school activities include Cultural Dance, Singing and Sports. His favorite games are any games that include a ball. He is definitely our child! His health status is Satisfactory and he has recieved clean water, nutrional training, immunizations, mosquito nets and training in personal hygiene and sanitation.
He also wrote us a message and it said:
"Dear sponsor, I love you very much. Thank you for you. God Bless You"
Isn't that the sweetest? The most important way that we've been able to help Auther and his family (the money contributed goes to help not just him, but his whole family) is their being able to have access to safe water. Below is a picture of one of the tap stands on the Kikyo Gravity Water Flow scheme constructed by World Vision.
Access to safe water has reduced the distance families have to travel to collect water. Also, incidence of water borne diseases will decrease as a result. This will ensure that children and prenatal care improves and will allow more time for children, like Auther, to concentrate on studies what was other wise being spent on moving long distances to collect water.
I'm so glad that Brian and I chose Auther to sponsor almost 3 years ago. Getting the updates from him really make us thrilled to know he is doing well. I know we take for granted all we have in the USA every day and to provide Auther with shots, and most importantly, clean water. This is something we are thankful to God for that He gives us the oppportunity to help someone else. I also love that Women of Faith partners with World Vision every year to give women the opportunity to sponsor children all over the world.
If you are interested in sponsoring a child, you can visit
World Vision's website
and they will give you more information. It costs $35.00 a month and I know in these tough financial days, that can be a lot, but I encourage you to pray about it and see if God wants you to help a child and their family today. Happy Tuesday!