Since I don't have too much maternity leave left, I decided to enjoy the time I had left and do things I won't get to do when I go back to work. Wednesday, I went to eat lunch in Greenville at TaMolly's with my best high school friend, Melissa. Melissa is a dentist and lives in Sulphur Springs. I wish we could get together more than we do but it was great to see her and she was so excited to meet Mallory.
Melissa & Mallory
We sat and talked for 2 hours. I'm sure the waitresses were ready for us to leave to free up the table but we just had so much to catch up on. There's nothing better than catching up with an old friend. We promised each other we would get together more often and I'm hoping we do that!
Brian is out in California for work so I decided I would stay with my Mom and Dad Tuesday night and Wednesday night so I would have someone to talk to and they love getting to see Mallory. Mallory must love their house because she slept from 11:15 pm - 7:15 am. Can you please do that at your home little girl??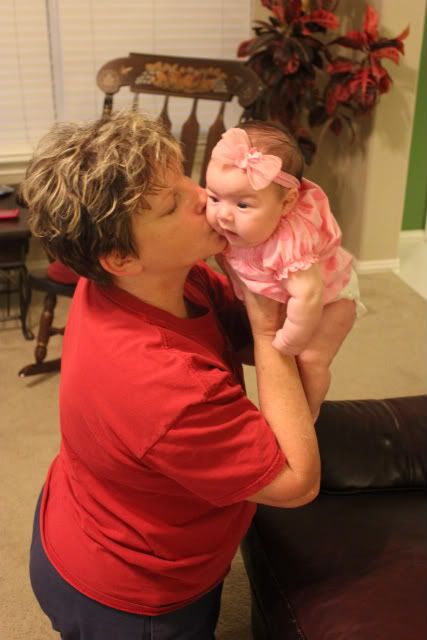 Nana and Mallory
Wednesday night, we were all getting ready for bed and Dad said the thought the air conditioning wasn't working. Thankfully, our friends, Lane & Lizzie Watson live just down the road from my parents. I called and Lane (who works on air conditioners as part of his job) came over and looked and it for dad. He told him he needed a new capacitor. Thankfully it wasn't the whole unit and can be fixed! It's so nice to have great friends to help you out! So, we loaded up and came back to our house and enjoyed sleeping with the cool air.
This afternoon, we headed to McKinney to meet my sister-in-law, Melody and nieces, Kiersi & Kayden for lunch. Melody had told us about
Spoons Cafe
in McKinney that she loves so we ate there. The food was really good. I was really surprised because Kayden's hair was much shorter and sooo cute!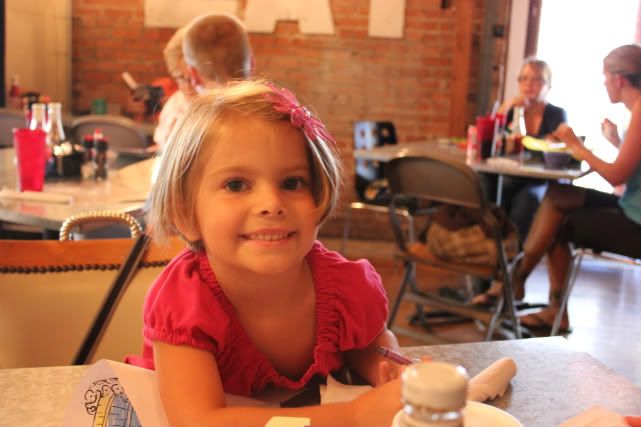 Love her new look!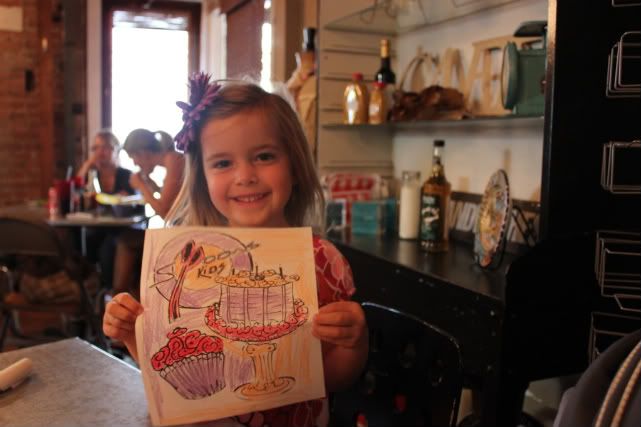 This beauty is starting Kindergarten in a couple of weeks - I can't believe it :/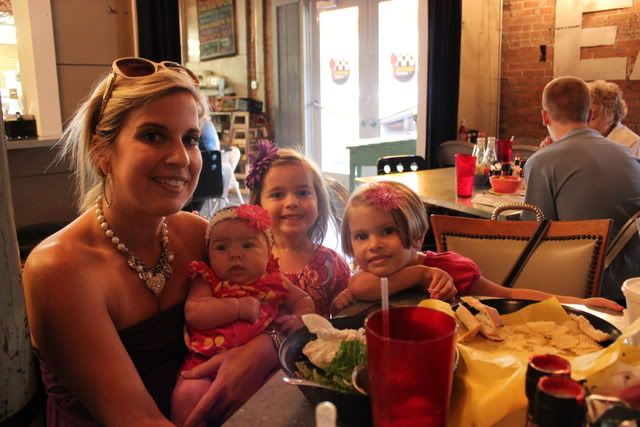 Kiersi & Kayden love seeing Mallory and I love that her cousins are so sweet on her. It was great chatting with Melody over a good lunch. I'm looking forward to having lunch with a couple of more family and friends before I go back to work. And spending time snuggling my little girl!