Today is a bittersweet day for me. After today, I will start a new chapter in my life and I am very excited about it! Today is my last day to work at Women of Faith. After 5 1/2 great years with this wonderful organization, I am leaving to stay home with Mallory! I am going to just be Mom.
This has been a decision that Brian and I have been praying about for a while. I knew I would come back to work after maternity leave because I needed to work the Fall Event season. Every weekend I had to travel, it was so hard to leave my family behind. Brian was amazing and was Super Dad but everybody knows, it's hard just being one parent for almost 4 full days every other weekend. Our families were great in helping out but it was hard being away. After the fall event season ended, I was promoted to Tour Manager, which was very exciting. I was looking forward to the Spring and not having to travel that much. Then, the Christmas holidays came and I took 2 weeks off and was with Mallory all the time. I loved every second of it. When it was time to go back to work, I was a wreck. I did not want to leave her and the thought of traveling, even though it was less than usual, it was something I didn't even want to think about being away from her. Don't get me wrong - she went to be the best daycare anyone could ask for and I loved that my Dad and Brian's Aunt Pam kept Mallory but I hated dropping her off at these places and not getting to be with her during the day.
After prayers, long talks, looking at finances, etc... we made the decision that I would stay home with Mallory. I gave my 3 weeks notice and worked that time to transition everything over. As much as I'm looking forward to being home with Mallory, I will miss all of my co-workers dearly. They made coming to work everyday fun. My fellow Event Planners: Jon, Amy & Betty Ashley were the best to work with! I have so many great memories and got to travel to so many places, I never would have been able to if it hadn't been for WoF. I've also gotten to work with so many amazing Christian speakers, authors and artists! Memories that will last a lifetime.
I know that many people say that being a Stay at Home Mom is the hardest job you will ever have. I'm ready to take that step and see. I don't know what the future holds for us but I know WHO holds it. I will be looking for something part-time later on to help contribute to the finances so I'm praying to see what that could be so I can still spend as much time with Mallory as I can.
Thank you to all of my friends who listened as I tried to figure out what the next step for me and who prayed on our behalf during this time! Here I go turning the page to the next chapter of my life!
Of course, I wouldn't leave a post without pictures :) This week, they had a going away party for a couple of us that are leaving.
My fellow EP, Amy, got a new job in Nashville!
Loretta (on right) is who hired me at my first job at WoF - I will be always be grateful!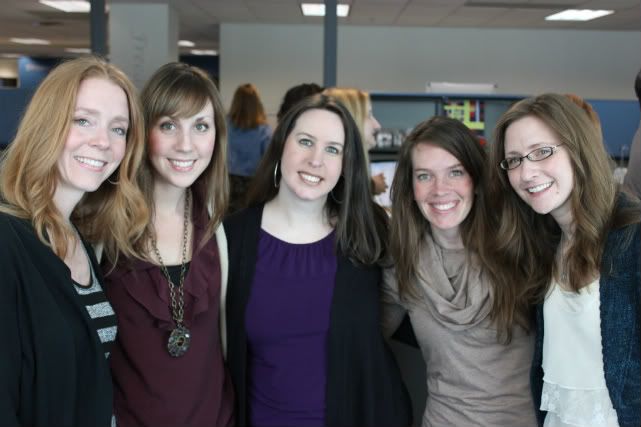 I will miss all these girls in the photos


And last but not least - my fellow EP's ( always serious :) ) - I will miss sooo very much