Hello Friday! This week was the week we were hoping we would have last week before the sickness struck but Mallory started her 3 days at day care this week and she did great! I'm afraid I will soon get a speeding ticket because I speed home after work so I can spend the evening with her!
Poor Brian didn't have a home cooked meal this week becuase all I wanted to do when I came home was play with Mallory. She loves just to lay on our bed and we play together. She smiles everytime I say her name and she just talks and talks. We have the best time!
Big Laugh
She just laughs like the picture above every evening. I'm so glad because I do miss her so much when I'm at work. I am still praying and figuring out the work/life balance and this past week wasn't bad. Mallory is just growing and changing and I want to spend every minute I'm not at work with her!
Mallory's new trick is rolling over in her crib! The first time it happened, I just called it a fluke because she was swaddled and was trying to get out. This time, she was still swaddled again but I'm just happy to know she's rolling over. I walked in to check on her and she was just laying there on her back (she naps on her stomach) just hanging out watching the fan.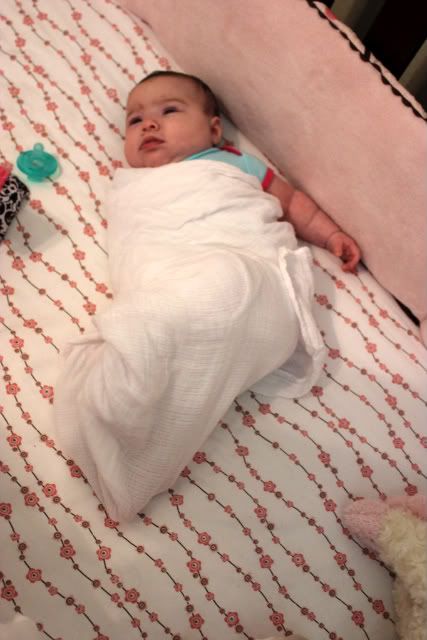 She has no clue why I was taking her picture
When she is on her back on the floor playing, she has no interest in rolling over but that will come in time. It's so nice to see her happy/giggly self again after the sickness. I'm hoping that's our only one for a while!
We have a couple of things planned this weekend but not too much! I hope that you have a wonderful weekend! :)